Endocrine Pathology Journal
Endocrine Pathology is an internationally respected journal, fulfilling the dual purpose of publishing high-quality papers while stimulating discussions and novel approaches to basic and clinical aspects of endocrine disease. The current Editorial Board represents broad expertise both in morphological aspects of endocrine disorders and in related disciplines required for mechanistic understanding of those disorders. The latter include molecular biology, signal transduction and clinical endocrinology. The journal is listed in Index Medicus and other databases.
More information about the journal can be found at the Springer Link.
Current Editor-in-Chief:
Ozgur Mete

Past Editors:
Lori Erickson
Virginia A. LiVolsi & Anne Marie McNicol
Arthur S. Tischler
Ricardo Lloyd
Kalman Kovacs & Sylvia L. Asa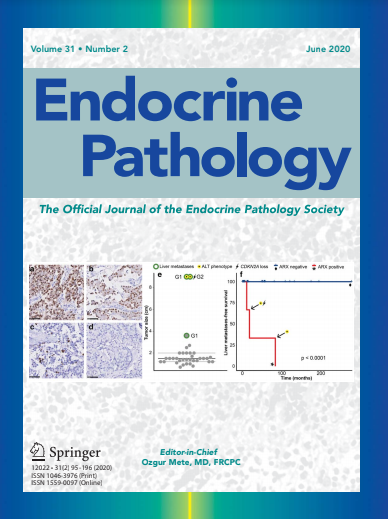 Editor's Picks
Hackeng et al. Alternative Lengthening of Telomeres and Differential Expression of Endocrine Transcription Factors Distinguish Metastatic and Non-metastatic insulinomas. Endocr Pathol 31, 108-118 (2020).
https://rdcu.be/b4tmG
Cameselle-Teijeiro et al. Pitfalls in Challenging Thyroid Tumors: Emphasis on Differential Diagnosis and Ancillary Biomarkers. Endocr Pathol 31,197-217 (2020).
https://rdcu.be/b6qDO
Oishi et al. Loss of 5-Hydroxymethylcytosine is an Epigenetic Hallmark of Thyroid Carcinomas with TERT promoter Mutations. Endocr Pathol 31, 359-366 (2020).
https://rdcu.be/ccczJ
Mete & Asa. Structure, Function, and Morphology in the Classification of Pituitary Neuroendocrine Tumors: The Importance of Routine Analysis of Pituitary Transcription Factors. Endocr Pathol 31, 330-336 (2020).
https://rdcu.be/cccyh
Lee et al. Detection of NTRK1/3 Rearrangements in Papillary Thyroid Carcinoma Using Immunohistochemistry, Fluorescent In Situ Hybridization, and Next-Generation Sequencing. Endocr Pathol 31, 348-358 (2020).
https://rdcu.be/ccczD